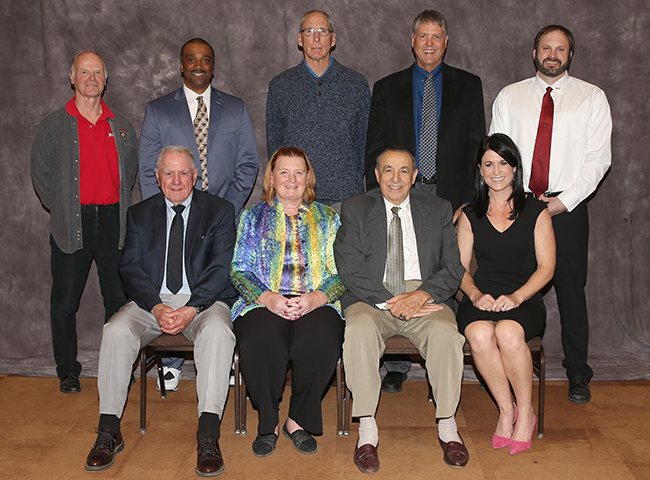 The Alaska School Activities Association announces the Class of 2017 Alaska High School Hall of Fame. Ten individuals and one contributor will be inducted into the Hall of Fame during a ceremony on Sunday, May 7, 2017, at 4:00 PM, at the Lakefront Anchorage Hotel. The public is invited to attend the ceremony.
View the 2017 Alaska High School Hall of Fame Program
The Hall of Fame was established to identify and honor, in a permanent manner, individuals who exhibited high ethical standards and integrity while achieving excellence in high school athletics and activities, as well as others who have distinguished themselves by virtue of exemplary contributions to the advancement of interscholastic athletics and activities in the State of Alaska.
2017 Hall of Fame Inductees:
2017 Alaska High School Hall of Fame Inductee Bios:
Athlete
Beth Ladd – Basketball, Cross Country Running, Track & Field – Homer High School
Brad Oleson – Basketball, Baseball – North Pole High School
Dwyane Jones – Basketball, Track & Field – Dimond High School
Jody Reding – Basketball, Cross Country Running, Track & Field, Volleyball – Homer High School
Coach
Bob Durado – Football, Girls Basketball – West Anchorage HS & East Anchorage HS
Dave Cloud – Girls Basketball, Boys Basketball, Football, Track & Field – Homer High School
Earle Walker – Basketball, Hockey, Football, Track & Field – Anchorage School District
George Houston – Basketball – Juneau-Douglas High School
Phil Jordan – Basketball – Alaska High Schools
Administrator
Teresa Johnson – Administrator, Teacher, ASAA Grant Coordinator – Anchorage School District
Contributor
RAVN Alaska – Contributor – Anchorage, Alaska