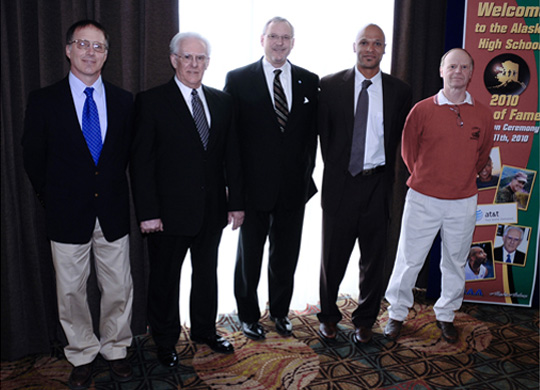 Congratulations to the Class of 2010
The Alaska School Activities Association announces the Class of 2010 Alaska High School Hall of Fame. The Hall of Fame was established to identify and honor, in a permanent manner, individuals who exhibited high ethical standards and integrity while achieving excellence in high school athletics and activities, as well as others who have distinguished themselves by virtue of exemplary contributions to the advancement of interscholastic athletics and activities in the State of Alaska.
Class of 2010 Inductees
This year as we induct the Class of 2010, we celebrate the academic and athletic achievements of three of Alaska's finest prep athletes, the phenomenal career of one of the state's most outstanding music educators, and the long-term support of a major contributor. These inductees demonstrate the synergy and effectiveness on interscholastic participation, and demonstrate the life long values of sportsmanship, integrity, team-work, self discipline, loyalty and cooperation that are instilled through ASAA activities.
Please join ASAA in thanking Alaska Airlines' for its continuing sponsorship as it celebrates its 78th anniversary as one of the country's most respected air carriers. We take great pride in inducting the members of the Class of 2010. We invite all inductees, families, friends, supporters and constituents to share in the enduring spirit of this occasion. Please click on the inductees photo or their name to view the inductee's 2010 bio.
Carlos Boozer Jr. – Athlete, Juneau-Douglas High School, Juneau
David Killpatrick – Athlete, West Anchorage High School, Anchorage
Larry Martin – Athlete, Homer High School, Homer
Roy McPherson – Activity sponsor, Ketchikan High School, Ketchikan
AT&T – Major contributor, Anchorage