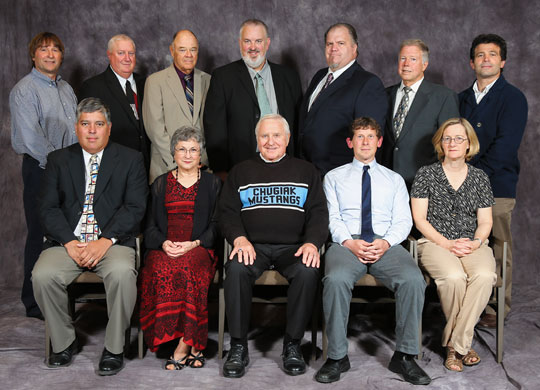 The Alaska School Activities Association announces the Class of 2012 Alaska High School Hall of Fame. Ten individuals and two organizations will be inducted into the Hall of Fame during a ceremony on August 5, 2012 5:00pm at the Howard Rock Ballroom, Sheraton Anchorage.
The Hall of Fame was established to identify and honor, in a permanent manner, individuals who exhibited high ethical standards and integrity while achieving excellence in high school athletics and activities, as well as others who have distinguished themselves by virtue of exemplary contributions to the advancement of interscholastic athletics and activities in the State of Alaska.
Categories include student athlete and students who participated in fine arts and academic activities. Other categories include coaches, advisors/directors, administrators, officials/adjudicators and major contributors.
2012 Alaska School Activities Association Hall of Fame Inductee Bios:
Steve MacSwain (Athlete, Hockey, East Anchorage )
Vivica Genaux (Music, West Valley)
Richard Cooper (Music, Haines)
Roger Schmidt  (Music, Sitka)
Paul Brauneis (Hockey, Chugiak)
Mike Smithers (Swimming , Ketchikan)
Ed Blahous (Soccer, Chugiak)
Craig Jung (Basketball, Kenai)
John Andrews (Athletic Director , Skyview)
Jim Paxton (Basketball, South Central/Statewide)
Alaska Commercial Company (Sponsor, Rural Alaska)
Nordic Skiing Association of Anchorage (Trail Maintenance/Officiating, Anchorage)