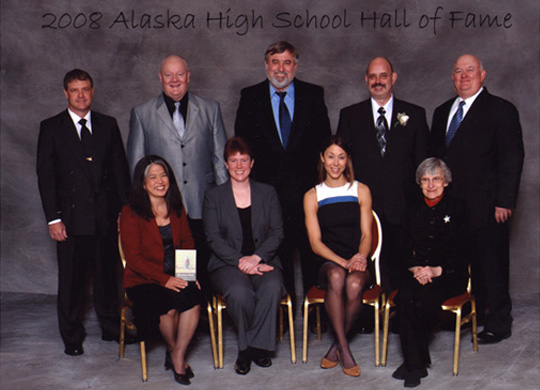 The Class of 2008 honors three of Alaska's finest prep athletes, five legendary coaches and one tireless contributor. These inductees demonstrate the synergy and effectiveness of interscholastic participation, and demonstrate the life long values of sportsmanship, integrity, teamwork, self-discipline, loyalty and cooperation that are instilled by ASAA activities.
We take great pride in inducting the members of the Class of 2008. We invite all inductees, families, friends, supporters and constituents to share in the enduring spirit of this occasion.
Click on an inductees name to view more information.
Alice Witte – Homer High School
Ann Berdahl – Nikiski Junior/High School
Dwayne Davies – Kake High School
Gary Steeby – Chugiak High School
James Whisenhant – Lathrop High School
Jeannie Hebert Traux – North Pole High School and Monroe Catholic High School
John W. Tobin – North Pole High School
Reilly Richey – Juneau-Douglas High School
Robert Boudreaux – Soldotna High School