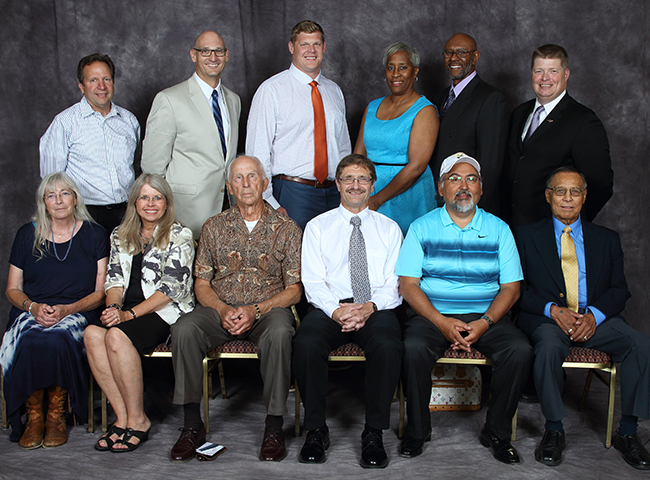 The Alaska School Activities Association announces the Class of 2015 Alaska High School Hall of Fame. Eleven individuals were inducted into the Hall of Fame during a ceremony on Sunday, August 2, 2015, at 5:00 PM, at the Hilton Anchorage Hotel. The public was invited to attend the ceremony. Read the Press Release »
The Hall of Fame was established to identify and honor, in a permanent manner, individuals who exhibited high ethical standards and integrity while achieving excellence in high school athletics and activities, as well as others who have distinguished themselves by virtue of exemplary contributions to the advancement of interscholastic athletics and activities in the State of Alaska.
2015 Alaska High School Hall of Fame Inductee Bios:
Athlete
Chris Kuper, Dimond High School, Football
Jeremiah Richards, Palmer High School, Track & Field
Reggie Tongue, Lathrop High School, Football
Coach
Ted DeLeon, West Valley H.S. and Ben Eielson H.S, Football, Track & Field & Basketball
Mike Zibell, Noorvik H.S. (Aqqaluk), Basketball
Dave Schroer, Homer High School, CC Running, Nordic Skiing & Track and Field
Lancer Smith, Palmer High School and Colony High School, Wrestling
Rex Rock Sr., Pt. Hope High School (Tikigaq), Basketball
Administrator
Roger Steinbrecher, Seward High School, Sand Point H.S.
Major Contributor
Alaska Airlines
Nordic Ski Club of Fairbanks