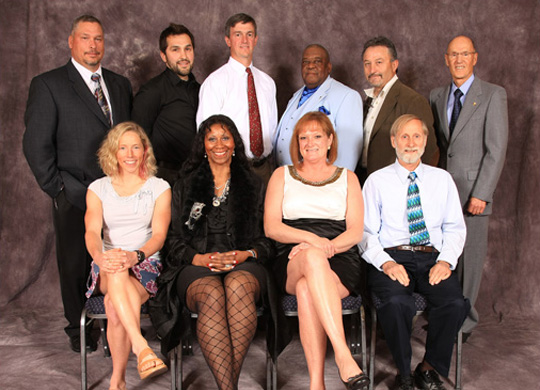 The Alaska School Activities Association announces the Class of 2011 Alaska High School Hall of Fame. Ten individuals were inducted into the Hall of Fame during a ceremony on August 7, 2011.  Download PDF of announcement here.
The Hall of Fame was established to identify and honor, in a permanent manner, individuals who exhibited high ethical standards and integrity while achieving excellence in high school athletics and activities, as well as others who have distinguished themselves by virtue of exemplary contributions to the advancement of interscholastic athletics and activities in the State of Alaska.
Categories include student athlete and students who participated in fine art and academic activities. Other categories include coaches, advisors/directors, administrators, officials/adjudicators and major contributors.
2011 Alaska School Activities Association Hall of Fame Inductee Bios:
Richard "Dick" Mize (Administrator, Dimond High School/ASD, Anchorage)
Scott Gomez (Athlete, Hockey, East High School, Anchorage)
Matt Hemry (Athlete, Tennis, Dimond High School, Anchorage)
Sam Hill (Athlete, XCR, Football, Basketball, Wrestling, Kotzebue/Nikiski)
Tom Huffer Jr. (Athlete, Football, Wrestling, Track, Chugiak High School, Anchorage)
Jessica Moore (Athlete, Basketball, Volleyball, Track, Colony High School, Wasilla)
Kikkan Randall (Athlete, XCR, XCS, track, East High School, Anchorage)
Sarah Sullivan Afoa (Athlete, Basketball, Volleyball, Track, Dimond High School, Anchorage)
Woody Wenstrom (Coach, XCR, XCS, West Valley, Fairbanks)
James Mason (Official, Football, basketball, baseball, volleyball, softball, Anchorage)