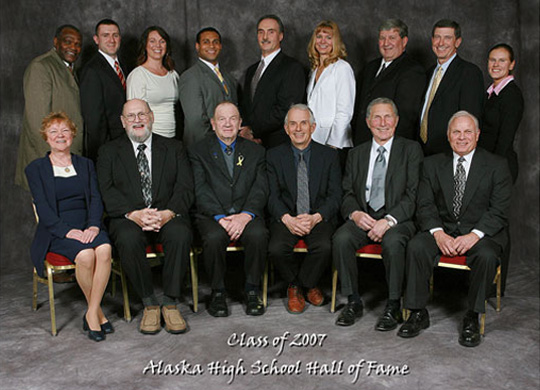 The Class of 2007 honors seven of Alaska's finest high school athletes, six legendary coaches, one outstanding advisor and one tireless contributor. These inductees demonstrate the synergy and effectiveness of interscholastic participation, and demonstrate the lifelong values of sportsmanship, integrity, teamwork, self-discipline, loyalty and cooperation that are instilled by ASAA activities.
We take great pride in inducting the members of the Class of 2007. We invite all inductees, families, friends, supporters and constituents to share in the enduring spirit of this occasion.
Click on an inductees name to view more information.
ATHLETE
Gary Beller – West Anchorage High School – 1968
Carl Blackhurst – Haines High School – 1996
Yohance Humphrey – Chugiak High School – 1997
Brit Jacobson Reid – Chugiak High School – 1994
Ron Pollock – West Anchorage High School – 1968
Emily Ransom Golick – Seward High School – 1994
Sarah Olerud Swinton – Haines High School – 1986
COACH
Joe Floyd – Kodiak High School – 1955-1981
Don Hather – Hoonah / Tok / Skagway High Schools – 1975-1997
Buck Nystrom – Eielson / North Pole High Schools – 1975-2006
Dick Thompson – Dimond / Service High Schools – 1970-1998
Larry Whitmore – Bartlett High School – 1973-1991
William "Bill" Wiltrout – Anchorage / Homer High Schools – 1954-1979
ADVISOR/DIRECTOR
Karen Grussendorf – Sitka High School – 1967-1998
CONTRIBUTOR
Dave Brann – Homer High School