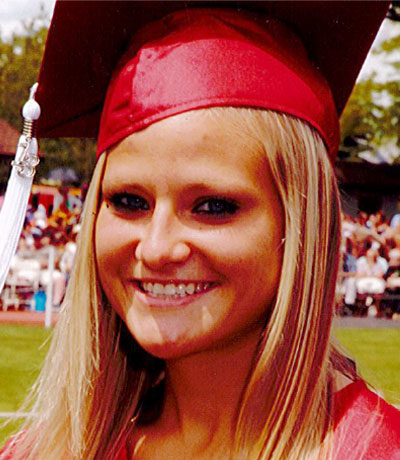 Lorrie Clifford
Athlete
Flag Football, Basketball
Chugiak High School
2009 graduate of Chugiak High School – An outstanding athlete in the sports of flag football and basketball, Clifford was a force to be reckoned with as an all-state basketball point guard and on the field as an all-conference flag football quarterback. "Her speed, coordination, and ability to anticipate the moves of her opponents helped hoist our teams to new athletic heights," stated teammate Alexis Sayer, "She was a tenacious defender on the basketball court, whose ability to press in transitions and intercept passes frustrated even the most fluid offensive teams. On offense, she was quick to skirt around defense and generous with the ball, always prioritizing the cohesion of team play over personal statistics and praise." During her senior year, Clifford lead Chugiak High in winning the State Championship in basketball, scoring 19 points, on 8 of 10 shooting from the floor, and 4-for-4 from the free throw line in the title game.
On the football field Lorrie was an absolute phenom of a high school quarterback. Jon Schroeder, her high school flag football coach, recalls " Lorrie's ability to pass the football was head-and-shoulders above her competition. She routinely passed for over two hundred yards per game, and had one game of 12 completions, in 19 attempts, 316 yards, and five touchdowns. She was an outstanding leader on and off the field, in the classroom, and in the community. I have been fortunate enough to coach a number of outstanding young athletes at Chugiak, and Lorrie is at the top of the list."
After high school , Clifford attended and graduated Western Oregon State University, where she played basketball, starting at point guard for two years. After college in 2013, Clifford was among a handful of former college athletes invited to a camp aimed at identifying potential rugby players. She made the team and urged former high school teammate, Alev Kelter to give rugby a try. Both went on to become USA National Girls Ruby team members.
Clifford is currently rehabilitating from an industrial accident. Stated a former teammate, "When I think of Lorrie Clifford, I recognize her as Hall of Fame athlete and a personal hero for the things she did that few ever saw: the first person in the gym and the last person out, the one picking up her discouraged teammate at a time out, the one with skinned knees and bruised elbows from diving for every loose ball, the one that always gives 110%–that extra rep, that additional sprint, that firm ray of hope when everyone else has resigned to defeat–and the one who inspires her team to do the same by her example. May she remain an example to future generations of athletes of the power of a strong character and unbreakable will.