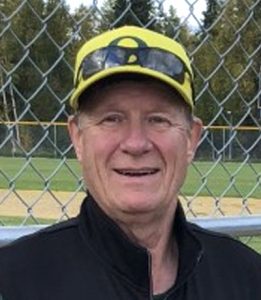 Lifetime Achievement – Anchorage
There are few people, if any, that have had an impact in youth/high school sports in Alaska comparable with Steve Nerland. Steve has been awarded the Joe Floyd award and inducted into the Alaska Sports Hall of Fame for his community accomplishments. The youth sports and high school leagues Steve has administrated has served and affected 1000s of young people not only in Anchorage but around the state.
Steve's advocacy for better sports facilities in Alaska has been an absolute game changer for high school sports and youth leagues. The Anchorage high schools all have fieldturf fields, thanks to Steve's leadership. That advocacy started a revolution for better fields across the state including turf baseball fields at Bartlett High School and Sitka.
The Alaska Airline Center on the University of Alaska campus would not be in existence if it was not for Steve's hard work, determination and perseverance against tremendous odds. The Alaska Airline Center has now hosted the March Madness Alaska Basketball and Cheer Tournaments, State Volleyball and Wrestling tournaments, providing a venue to showcase Alaskan students.
The Dome in Anchorage is another unbelievable accomplishment. The Dome has had a huge impact on sports in Anchorage. When it collapsed, the Anchorage community certainly realized its importance. Steve with other like-minded community members spent an enormous amount of time and effort to resurrect the Dome and secure its future in the Anchorage community. In addition, Steve has founded Alaska Airlines Classic Basketball Tournament in 1989, served as Chair for the Service High School Tipoff Basketball Tournament for 6 years, Coached Service High School Baseball for 12 years, winning the 2001 State Championship. Steve has served on numerous committees at the request of Anchorage School District to help support activities within the school district. Steve was on committees that started Flag Football, reinstated "C" team sports, and reinstated middle school boys and girls basketball and is currently working to start a Middle School Baseball and Softball League.
Steve started and is President of the non-profit Alliance for the Support of American Legion Baseball in 1994. The Alliance handles the operations of American Legion Baseball in the State of Alaska. It was through the Alliance that money was secured to improve Mulcahy Stadium with a fieldturf infield. Since then Mulcahy has been the home of many ASAA State Championship tournaments with zero rain outs. That includes field maintenance, game scheduling, finances, fundraising, and umpires, all aspects of running a state wide league.