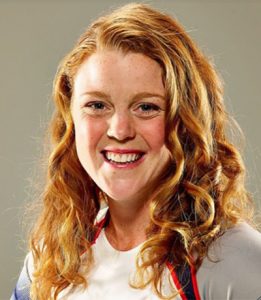 Athlete – Chugiak High School
2009 graduate of Chugiak High School – An outstanding athlete in the sports of flag football, hockey and soccer. Alev was the Gatorade Soccer Player of the Year for both 2008 and 2009.
Because of her dedication to community service during her high school years, she was awarded the Ernest P. Gruening Award for outstanding school and community service. These awards culminated in a full Division I scholarship to play both hockey and soccer at the University of Wisconsin-Madison. As a college freshman, Alev took her Badger soccer team to the Sweet 16 as a starting center midfielder. Two years later Alev assisted in the game-winning goal against Boston University, winning a NCAA D-1 Women's Hockey National Championship.
After graduating college with her Bachelors in Fine Arts, Alev continued her athletic career in the sport of rugby. She was selected to several international teams including Team USA's 12 player roster for the 2016 Rio Olympic Games.