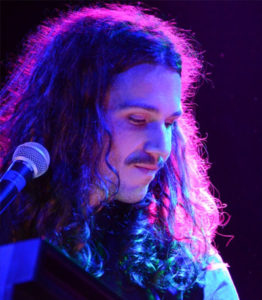 Musician
Homer High School
When your nominator says you are "THE BEST" musician to come through Homer High School and likely the State of Alaska, and are "a rare talent who has achieved international acclaim," that gets your attention! When a former HHS Principal states that Andrew Vait was "self-aware and devoted to becoming an excellent musician" with the "determination to master the skills" toward "achieving the virtuosity he sought." That also speaks volumes!
Andrew Vait, a 2003 graduate of Homer HS, was "active in sports, National Honor Society, and part of every music band and choir in high school, his leadership and collaboration with others set him apart." For Example: Andrew was on Varsity Swim & Dive 1999-2002 (Most Valuable Swimmer in 2002); He lettered in baseball 2000-2002; He was Honor Society President 2002-2003.
Musically however, Andrew uniquely excelled: MENC All-Northwest Symphonic Band 2001; MENC All-Northwest Jazz Band 2003; Alaska All-State Band 2000-2003; and National Fine Arts Awards' Merit Award for Instrumental Music 2003. Andrew performed in Swing Choir, Mixed and Men's Choirs 2001-2003, received Superior ratings in Alaska State Solos and Ensembles 2000-2002 (including a 2002 Command Performance – alto saxophone). Additionally, he gave numerous guest performances, participated in theater, served as an on-air radio volunteer and is a published writer.
Touted as a "great musician and a great guy," Andrew Vait "put his mark on Homer High School and was, and is, known in Alaska as one of the best."