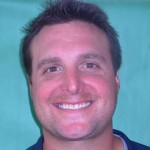 Athlete, Baseball / Football
Juneau Douglas High School
No Alaska baseball player did more with less than Chad Bentz of Juneau-Douglas. He made history in Major League Baseball by becoming the second pitcher, after Jim Abbott, to play in the big leagues after being born without one of his hands. "I played baseball when I was younger, and got made fun of," Bentz said. "I didn't like going because all they did was make fun of me. So I didn't play anymore. Then I saw Jim Abbott. He gave me the will to at least try playing again." Bentz is Alaska's role model. The 6-foot-2, southpaw pitched in 40 career MLB games from 2004 to 2005, more than any other player from Alaska. He's the only Alaskan with a base hit in the big leagues. During his high school career he was a 3-sport athlete earning varsity letters in football, baseball and track. He made all state teams in football and was Gatorade Player of the year in Baseball. Currently, Chad has returned to Juneau and is the athletic director at Juneau-Douglas High School. He is giving back to the young people of the community and is certainly a positive role model.