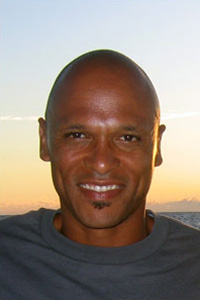 Proximity may have played a prominent role in helping David Killpatrick's legend grow to Hall of Fame heights. A three-sport star during his days at West Anchorage High School, Killpatrick dominated on both sides of the football during his senior season in 1989. He was named offensive player of the year and recorded 20 tackles defensively in the Invitational State Championship game.
But it was prior to the season, in the spring of 1989, when Killpatrick earned a scholarship to play football at the University of Washington – the NCAA Division I school closest to Alaska. "That was huge for an Alaskan athlete to become a Husky," said former West football coach Robert Durado. Killpatrick played at Washington from 1990-1995, and was named co-captain of the 1995 team. He played in multiple Rose Bowls and was part of the Huskies' 1994 National Championship squad.
"David was one of the most gifted all-around athletes to ever play in the state of Alaska," said Tom Huffer Sr., a veteran coach and 2006 Alaska High School Hall of Fame inductee. Killpatrick collected three varsity letters in football, four in soccer and four in track and field. During his senior season of soccer, the Eagles were ranked nationally.
Killpatrick now works for a medical company. He assists college and high school athletes with knee braces and other medical needs. He often provides free knee braces to underprivileged children.
"Alaska was fortunate to have had an athlete of David's caliber," Durado  said.