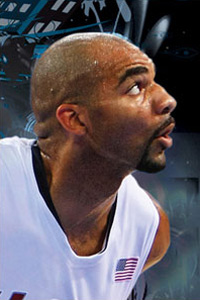 Numbers seldom lie, and the statistics Carlos Boozer compiled during his basketball playing days at Juneau-Douglas High School make him a sure-fire Alaska High School Hall of Famer. A four-year letter winner at JDHS, Boozer was twice named a Parade All-American and Gatorade Player of the Year. He was considered the best player on a pair of Crimson Bears' Class 4A state championship squads (1997 and 1998).
Yet, Boozer may best be remembered for the way he handled the notoriety his dominant play created. "After playing his final games at Southeast opponents Sitka and Ketchikan, (Boozer) was in such demand that they set up a stand so fans could get pictures and autographs of him," said George Houston, Boozer's coach at JDHS. "Given the nature of the rivalries between Juneau, Sitka and Ketchikan, this was a most unusual circumstance." Houston said this type of reaction showed fans' appreciation for Boozer's talent.
After graduating from JDHS, Boozer played for iconic coach Mike Kryzewski at Duke University. Boozer started for three seasons and was an integral part of the 2001 NCAA national-championship winning team.
The Cleveland Cavaliers selected Boozer with the 35th pick in the 2002 NBA Draft. He played a pair of seasons with Cleveland before signing with the Utah Jazz. With the Jazz, Boozer flourished into one of the NBA's best inside forces. He's twice been named an NBA All-Star and helped Team USA win a pair of Olympic medals (bronze in 2004, gold in 2008).
As time has passed, Boozer has been active in relaying appreciation for Alaska basketball fans, the same way those fans showed him the love during his JDHS days. "He loves Alaska and still considers it his home," said Cricket Curtain, a JDHS activities official. Boozer makes promotional appearances in Juneau and around the state during the summers. He's hosted a basketball camp with former Duke teammates and friends. Boozer's Buddies, his foundation, raises money for children with sickle cell amenia. "As a high school coach, I have the greatest regard for Carlos as a basketball player, and an even higher regard for his character, both on and off the court," Houston said. "He has been very positive in his support of education and of younger people staying in school in order to live their dreams."