Douglas High, Lathrop High, Fairbanks, Nome-Beltz High and Wrangell High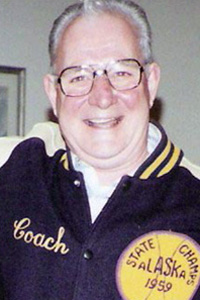 Maybe best remembered for coaching the Fairbanks (Lathrop) boys basketball team to the first Alaska high school state championship in 1959, Richard McCormick's leadership stretched from Interior to Southeast Alaska over the course of three decades.
McCormick's Alaska athletic career started at Douglas High. He graduated in 1946 and then played four seasons of basketball at the University of Alaska. He was team captain and most valuable player in 1948.
He started coaching at Douglas in 1951, but quickly left for a stint in the Army. He returned in 1954 before moving to Lathrop in 1956. McCormick moved to the Nome's bench in 1960 and then to Wrangell, where he worked as a coach and administrator.
He then worked at Juneau-Douglas High before taking over as Wrangell's superintendent from 1970 to 1977, the year he retired.
"(McCormick) left a lasting impression on me," said Robert F. Meath, a 1957 Lathrop graduate. "He was an outstanding coach and teacher who communicated well with his players and students. He was a good listener and his door was always open to players and students who might be having problems in school or at home."