Lathrop High School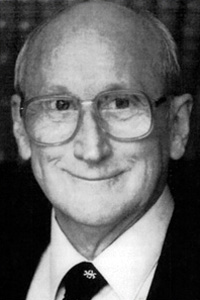 James Whisenhant was a trailblazer in every sense of the word. Affectionately nicknamed "Whizzy," he is known as the father of cross-country skiing in Fairbanks. He served as the first cross-country ski coach at Lathrop High School and was instrumental in the development of the Fairbanks area trail system.
During his 19-year career, Whizzy coached countless state champions and produced numerous All-American, Junior Olympian and Olympians. Whizzy often told his skiers to "leave everything out on the trail," which was not difficult for them to do, knowing their coach did the same. He was also a downhill skiing, basketball and running coach.
His service extended to the community at large as well, as an involved member of the Chamber of Commerce, Borealis Kiwanis and state and borough park boards. He was a board member of the Arctic Winter Games for 14 years, serving two years as president. And, in 1975, he founded Beaver Sports.
One of his legacies is creation of the Birch Hill Ski Trails in Fairbanks, named in his honor. With more than 32 kilometers of maintained trails, it is the site of many races, including the World Cup, Junior Olympics, Arctic Winter Games and the ASAA State Ski Championships.
On May 26, 2006, Whizzy died from complications after surgery.