COACH – Anchorage / Homer High Schools 1954 – 1979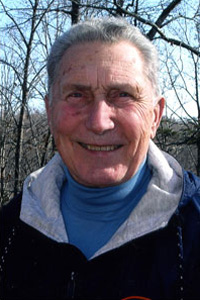 William "Bill" Wiltrout is quite possibly Alaska's only coach to win three state championship teams in the same school year (1966-67) – cross-country running, basketball, and track and field. Bill began his 25-year teaching/coaching career at Anchorage High School (now West) in 1954. From 1959-1962, he lived Homer where he functioned not only a teacher and coach at Homer High School, but also as principal and superintendent. Wiltrout returned to Anchorage High School (West) in 1963, where he served as a teacher, coach, and athletic director until his retirement in 1979.
During his 25-year career, Bill coached a multitude of sports:  football, cross-country running, track and field, and basketball. Wiltrout was an excellent teacher and carried this over into the sports he coached. He emphasized that coaching was not only the teaching of skills used in a sport, but was also the molding of life attitudes. He excelled in getting students to achieve to the best of their abilities. Two of this year's Athletic Inductees – Ron Pollock and Gary Beller – were students of Bill's, and give him much credit for their decision to become teachers and coaches.
After retirement, Wiltrout went on to make his mark in interscholastic athletics as a basketball sports official, refereeing many regional and state championships. He encouraged and mentored many aspiring officials to take up the profession. In 1998, at the age of 68, Bill retired from refereeing and now divides his time between winters in Virginia and summers at his Bonnie Lake cabin near Chickaloon, Alaska.