ATHLETE – Walter Northway High School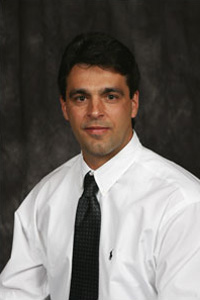 Mike Cronk was a basketball standout from Northway High School. He graduated in 1987. In his first three seasons he averaged 32 points a game and 20 rebounds. During his senior year, he averaged 37 points per game and 23 rebounds. Mike Cronk is considered by many to be the most prolific scorer in the history of Alaska prep basketball. He proved his ability to score against the best by averaging 36 points against formidable opponents like East Anchorage, Lathrop, North Pole and Palmer High Schools. He still holds the state record in points scored in a single game, 62. Although hailing from a small Alaskan high school, he was named Alaska Player of the Year in 1986-87.
Mike attended the University of Alaska Fairbanks on a full basketball scholarship. He led UAF to the 1988-89 conference championship and the first ever trip to the NCAA Division II basketball tournament. He earned his Bachelors degree in elementary education. He returned to Northway as teacher to give back to the community where he grew up. He has coached junior and senior high basketball teams with success including an appearance in the state tournament. Mike believes in the need for positive role models in rural Alaska. His goal is to touch the lives of children and provide them the opportunity to be a successful person.