ADMINISTRATOR – Mt. Edgecumbe High School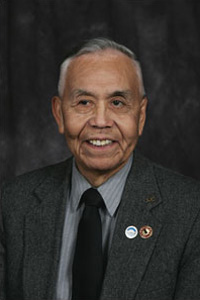 Gil Truitt is "Mr. Mt. Edgecumbe". Gil is a Mt. Edgecumbe graduate, as well as, a teacher, and administrator of many years. He was a member of the class of 1948, the first class to graduate from Mt. Edgecumbe. He returned to his hometown and served as a teacher and principal of Mt. Edgecumbe from 1957-1990. During his 33 years, he served as a basketball coach, senior class and pep club advisor. In 1985, he researched and wrote a booklet on the history of basketball in Alaska. He identified all the champions dating back to 1921. Gil served on numerous committees that were intent on improving health and athletics of young people in Alaska. He was instrumental in bringing together the boys and girls basketball tournaments in Region V into one venue, Mt Edgcumbe. Mr. Truitt has been admitted to the Mt. Edgecumbe Hall of Fame and has had the yearbook dedicated to him five times.
Gil is a lifelong Alaskan and a fixture in Southeast Alaska Athletics. He has missed only one Region V basketball tournament in 46 basketball seasons. That was the year he completed his Masters Degree in Public School Administration. Recently, his community honored him. The new Mt Edgecumbe auditorium was named for him and the City of Sitka named a street in his honor.