ATHLETE – Kotzebue High School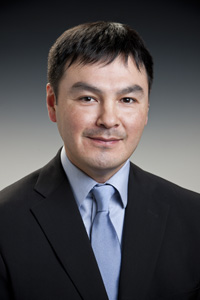 Mr. "Role Model" would be an apt name for Butch Lincoln. He graduated from Kotzebue High School in 1991. During his basketball career, he led Kotzebue to a 3A Region Championship and was twice named to the All State Team. He was a deadly three-point shooter with a quick release that was very difficult to guard against. While his basketball skills were outstanding, his leadership in other areas was more impressive. He was an example for all in decorum and sportsmanship.
He continued to lead by example in his college career at UAA. He became the first Alaskan Native to earn a full scholarship to UAA. He played all four years at the college level and increased his presence substantially over those four years. He was a crowd favorite and his presence on the court brought energy and excitement to the team and fans. He modeled determination, hard work and sportsmanship every day. His accomplishments on the court were amazing, considering he was only 5'6″, a pest among giants. While a member of the UAA team, he was instrumental in persuading the University to play some home games in rural Alaska. One of those games was in Kotzebue, his hometown. During that game, the gymnasium was packed with 1,300 fans that came to honor him by retiring his high school number. He graduated from UAA in 1996 with an accounting degree.
Butch has returned to his roots and works for a Native Corporation and continues to be a role model for rural Alaskan youth. He is often seen in posters through out rural Alaska promoting a healthy lifestyle and serves as positive role model for other Alaskan Native young people.